David Unger studied at Ingesund College of Music (Pedagogical institution) 2004-2008, and 2013, Gothenburg University (choral singing) 2007-2008 and Uppsala University (Baroque counterpoint) 2019. 
David works as a teacher in Classical singing, Composition, Aural training and Music history at Oskarshamns Folkhögskola where he also conducts the Classical choir. 
Aside from his day job he regularly perform as a singer of art songs, as church singer and as soloist in larger works. He is a former member of the Wermland Opera Choir, vocal ensemble Wermlandsensemblen and Stockholm Academic Male Choir and since 2009 a member of vocal ensemble Cantores Calmarienses.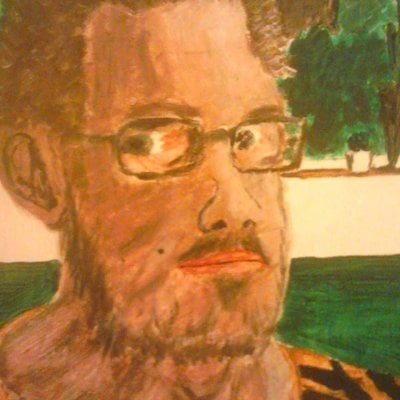 Self portrait in acrylic, May 2015 
He is also a composer and a poet, with many performances of foremost his choral music and art songs for vioce and piano. In addition to his vocal music he has composed a cantata comissioned by Kalmar Länsmusik, a string quartet published by Gusthold Music Publisher, two violin sonatas, two piano sonatas, as well as pieces for piano, classical guitar and organ. 
His music has been performed in Sweden, England, Germany, Austria and Canada by prominent singers such as  Cindy Koistinen, Elin Skorup, Thomas Björklund Svensson, Marie-Claire op ten Noort, Anthony Schneider and Hannes Öberg and choirs such as Kalmar Cathedral Choir, Halmstad Vocal Ensemble, Cantores Calmarienses and the Chamber and Male Choruses of Ingesund College of Music. 
David has been called "a radiant talent in finding the essentials in different musical styles" (Arvika Nyheter, Demeber 4, 2006) and local news paper Barometern wrote that his music shows "good insight in choice of melody and harmonic part writing" (September 25, 2012)
In May 2020 Gusthold Music Publisher published his String Quartet Ave Maria. 
I april 2020 he participate as composer of the miniature Danza on the record "Creative Quarantine" by The Flauto d'amore project, that was Recorded to raise money for musicians that lost their income due to the Corona crisis. 
In February 2020 he was "Composer of the week" on German Youtube channel for new piano music Moving Classics TV. 
In the Summer of 2019 David was "Collaborative Artist" with The Opera Experience in Colchester, England with several first performances. 
In 2017 his three congregational hymns where published on psalmportalen.se. 
Davids poetry has been published in the anthologies "181 dikter till Tranströmer" (2011), "Ordrösen från Småland" (2013), "Poetry 10.0" (2013), "©Sverige #poesimotrasism" (2014), and "Make love, not war" (2015).
From 2011 to 2018 he has was a freelance music critic and columnist for local news papers Barometern and Oskarshamns-Tidningen.
He is also a founding member of Mönsterås Jazz and Chamber Music Society.